Profile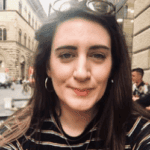 Zoe Haime
You can ask me about schizophrenia, mental health, or any mental health medications!
Curriculum Vitae
Education

Shaftesbury Primary School – King Alfred's Middle School – Shaftesbury Upper School –
Plymouth University –
Brunel University –
Middlesex University –
UCL

Qualifications

13 GCSEs –
3 A Levels –
BSc (Hons) Undergraduate Degree – Psychology –
MSc – Functional Neuroimaging –
PgDip – Mental Health Practice –
PhD –

Work History

Sales assistant at Superdrug –
Sales assistant at Boots –
Voluntary babylab research assistant –
Voluntary social media assistant – for a private clinical psychologist –
Research assistant on a cohort study (longitudinal study of the same participants each year of their lives) – I was also a maternity care assistant at the same time! –
Mental health worker – I worked in a substance misuse service and then on an inpatient acute mental health ward

Current Job

Researcher on my current project – I carry out lots of tasks, including talking to patients, doing assessments, reading scientific literature, writing science papers, doing data analysis, attending meetings, and coming up with research ideas.

Employer

National Health Service (NHS)
Favourite thing to do in my job: Meet new people who take part in my research!

About Me: I'm from Dorset but currently live in London, UK and I spend my time working as a researcher for the NHS.

Read more

I am from the South-West of England, and currently live in East London in the UK. I work for the NHS as a researcher, whilst also being a student at UCL. I love animals, music festivals, and watching films at the cinema. I eat anything sugary, and I also love cheese! I spend lots of time working but I also love travelling to new countries and exploring their local culture and cuisine, and well as travelling the UK to see my friends!

My Work: Do antipsychotic medications have any negative effects on people experiencing schizophrenia? Do they change the way someone perceives other people? - Things I'm trying to work out!

Read more

My research involves patients with schizophrenia who take antipsychotic medication.

People who have schizophrenia may experience symptoms such as hearing voices that other people can't hear, or having lasting beliefs that are not true. Sometimes these symptoms can get in the way of daily life, and to help, psychiatrists (doctors) often prescribe antipsychotic medication. Some people find these medications really helpful and they recover! Some people find they help in some ways, but might make them ill in a different way, such as making them more tired, or making their hands and arms shaky. These issues can get in the way of getting on with normal life, and may make people feel like they can't go out and make friends, or like they can't go to work.

Because of this, we have decided to research whether taking less of their medication might make people feel a bit better in some ways. To do this we ask patients with schizophrenia to volunteer to take part, we then have some of these people reduce their medication a bit, and some people stay on their same dose, then after a couple of years we compare the two sets of people on lots of different areas of their lives, to see if anyone has got better, or worse.

My Typical Day: Typically I'll start the day reading and replying to some emails. Then I might have to call some patients to book in their assessments and check they're ok! Then I might need to travel to a patients' home to do an assessment with them (this can take up to 3 hours!). There's plenty of other things I do as well though, including data analysis, reading scientific papers, and attending meetings!

Read more

My days vary wildly depending on what my plans are for the week, and I usually have a full diary weeks in advance!

I'll run you through a week in my life – briefly!

Monday

Most mornings I start by reading emails and responding. Usually on a Monday I take a PhD day, which is a day for me to work on my student project, write for my dissertation, and sort anything related to university.

Tuesday

I will usually go along to one of the NHS sites I help at in London as part of the project I work on. It takes me a couple of hours to get there on the bus in the morning so I usually listen to a podcast in that time. When I'm there I need to check notes for patients, to make sure the ones in our study are doing ok. I also give some of the patients a call and book them in for assessments with our researchers.

Wednesday

I have a meeting with my team in the morning to catch-up with our plans for the next couple of weeks. I then attend meetings at the university that helps run our study, UCL. Here we meet with professors and important people involved with our study, to make sure everything is going to plan!

Thursday

I will usually go and do an assessment with a patient. Our assessments take about 2 hours and we ask lots of questions. We do memory tests, ask what activities people have been up to, how people feel about their lives, and how people interact with others, as well as lots of other questions. The assessments are usually quite fun, but can be very tiring. After I do the assessment I then have to go and type all of the answers online so that we have all the data stored together.

Friday

On this day I am usually in the office catching up with the other members of my team. We also get to catchup with other members of the department and check out the research they're doing. I spend this day focusing on admin tasks, and keeping up with the latest scientific papers published in my area of interest.
My Interview

How would you describe yourself in 3 words?

Curious, Thoughtful, and Understanding

What or who inspired you to follow your career?

R.D.Laing

What was your favourite subject at school?

English Literature!

What did you want to be after you left school?

I wanted to work in a post office

Were you ever in trouble at school?

nope!

If you weren't doing this job, what would you choose instead?

A zookeeper

Who is your favourite singer or band?

Radiohead

What's your favourite food?

Sweets

What is the most fun thing you've done?

Attend glastonbury music festival

If you had 3 wishes for yourself what would they be? - be honest!

my own house, a nice chunk of money, and lots of pets

Tell us a joke.

How many psychologists does it take to change a light bulb? One, but the light bulb has to want to change.
My profile link:
https://ias.im/u.251771
---
---
---
---