Profile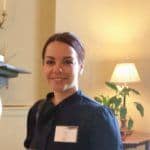 Sylvia Soldatou
I try to find new medicines from the sea!
Curriculum Vitae
Education

University of Patras, Greece (2006-2010), University College London, UK (2011-2012), National University of Ireland, Galway (2012-2015), University of South Florida, USA (2015-2017)

Qualifications

BSc. in Chemistry, MSc. in Pharmacognosy (Therpeutic uses of natural products), PhD in Natural Products Chemistry

Work History

Family owned pharmacy and Strathclyde Institute of Pharmacy and Biomedical Sciences, University of Strathclyde

Current Job

Research Scientist, University of Aberdeen

Employer

Tweets by MBC_UoA
Favourite thing to do in my job: Helping people to solve problems and analyse data

About Me: I'm a Greek-Italian Natural Product Chemist currently living in Aberdeen

Read more

I am half Greek-half Italian but I was mainly raised in Greece. Since June I've been living in Aberdeen and I am still trying to get used to the cold!

During my studies I've lived in London, Galway (Ireland) and Tampa (FL, USA) where I met some amazing people and every now and then we have long Skype session for cathing up.

I love exploring Scotland and almost every weekend I try to visit  a new place. Last week I was in Loch Thom and I am planning a trip to Isle of Skye when it will get warmer. I am a member of the University of Aberdeen Choral Society and I get involved in many outreach events organised by the University of Aberdeen.

My Work: I discover new medicines from the sea

Read more

I work at the Marine Biodiscover Centre at the University of Aberdeen. I am a Chemist but my daily work involves a lot of microbiology as I am working with marine bacteria and fungi that were collected from sediment samples from the deep-sea, below 2000m! I am also working with fungi isolated from marine sponges that we collected in the Red Sea and plants collected from Wadi El Natrun, a valley in Egypt. Antibiotic -resistance is a major threat, therefore I am looking for new molecules produced by these bacteria and fungi that can act as antibiotics. I am also interested in new marine compounds with interesting anti-cancer activity.

I am also our group's lab manager. I make sure that our lab equipment is working properly and train other researchers to use them corerntly. Moreover, I work with undergraduate, master's and PhD students helping them out in their daily lab work. I also do a bit of teaching which involves a series of lectures as part of a Master's course and demonstrating 2nd year organic Chemistry lab practicals

My work also involves a lot of travelling for conferences and sample collection, so I have been very lucky vsiiting some exciting places!

My Typical Day: Every day is different from the previous and the next one, depending on where I am needed the most!

Read more

I am based at the University so most of the days I walk to work unless is freezing, then I take the bus! I usually make a cup of tea when I arrive and catch up on emails before I go in the lab. Somedays I am tecahing or demonstrating lab pacticals so I don't have time to work on my own projects. Other days, I have project students that need my help with analysing their data or setting up their experiments. On these days I focus on assisting the project students.

My own project can be done in either the chemistry or microbiology lab. When I work in the microbiology lab I have to make sure everything is super clean to avoid contaminations. The work involves the isolation of fungi and bacteria from marine samples collected from various locations around the world. I grow the bacteria and fungi on agar plates and when they are happy and fluffy I grow then on liters  and liters of liquid broth to have enough material for the chemical work.  In the chemistry lab, things are more challenging because you have to use a lot of different techniques and instrunments that require good knowldege and expreience but I have to admit that the chemistry lab work is the most fun!
My Interview

How would you describe yourself in 3 words?

passionate, adventurous, optimistic

What or who inspired you to follow your career?

My dad

What was your favourite subject at school?

Chemistry

What did you want to be after you left school?

Chef

Were you ever in trouble at school?

Not really

If you weren't doing this job, what would you choose instead?

Chef

Who is your favourite singer or band?

Arctic Monkeys

What's your favourite food?

Any kind of pasta!

What is the most fun thing you've done?

A 3 week sample collection cruise in the midlle of the Atlantic

If you had 3 wishes for yourself what would they be? - be honest!

Tough question! Ok, 1. To have my family closer , 2. To continue doing what I love as a profession and 3. to win a Nobel Prize (dream big!)

Tell us a joke.

I asked the guy sitting next to me if he had any Sodium Hypobromite… He said NaBrO
My profile link:
https://ias.im/u.210771
---
---
---
---