Profile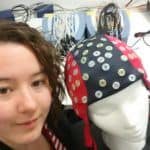 Steph Acaster
Curriculum Vitae
Education

I went to a secondary school in East Yorkshire (South Hunsley) and stayed through to sixth form. Once I completed A-levels, I went to the University of Birmingham for 3 years to complete my undergraduate degree, before moving to Sheffield Hallam to start my PhD.

Qualifications

GCSEs (2009):
Maths, Biology, Chemistry, Physics, English Language, French, Graphics, Art (A*)
English Literature, Religious Studies (A)

AS-levels:
Chemistry (A) and Critical Thinking (B)
Extended Project Qualification

A-levels (2011):
Biology (A*)
Psychology, Maths, General Studies (B – 0.5% away from the boundary for an A in Psychology, ouch!)

BSc Psychology (2014) – first class

PhD Psychology (2019)

In 2018 and 2019 also completed ABRSM Grades 5 and 8 in Music Theory, and Grades 5 and 7 in Violin.

Work History

Volunteer (Yorkshire Waterways Museum) – a Saturday role with lots of variation in jobs such as reception, cafe, tidying the museum.

Assistant Librarian – a summer job after GCSEs sorting and setting up a school library.

Research Assistant (University of Birmingham) – collecting data from computer tasks and focus groups, analysing data.

Affiliate (Graduate Recruitment Bureau) – promotion and getting people to sign up to a graduate careers site

Demonstrator in Psychology (Sheffield Hallam) – assisting and teaching in statistics classes and other undergraduate seminars, as well as practical classes on EEG equipment.

Subject-Matter Expert (Pearson Education) – writing revision materials to go with online Psychology textbooks.

Resource Writer – creating research-based activities for GCSE Psychology students.

Band Secretary – planning rehearsals and concerts.

Exam Invigilator – one of those not-a-teacher staff members who supervise your GCSE/A-level exams!

Current Job

Online tutor
Most of my work at the moment is tutoring in Psychology, Maths and Biology.

Researcher
I'm currently writing up research papers about my PhD work, and exploring new topics to investigate next!
Favourite thing to do in my job: Reading about and discussing new ideas!

About Me: I am a researcher, a tutor, and a violin-player. Most of all, I'm very nerdy and I love to explore lots of different interests!

Read more

I live in East Yorkshire, currently in 'isolation' with my younger brother and my dad!

I'm an introvert, and enjoy reading and learning new things. I play the electric violin (as well as a 'normal' one), which is something I started to learn as an adult only 4 years ago. I have recently joined an entirely-online orchestra.

I don't have any pets at the moment but my favourite animals include dogs and hedgehogs. I've recently been re-watching the Harry Potter films, which are a big favourite of mine, and playing a playstation game from my childhood called 'Rayman'.

My favourite food is cheese and bacon and tomato pasta bake, but I'm not very good at cooking.

She/her pronouns.

My Work: I study perception - how people understand what they see and hear. I also measure brainwaves to help in this quest!

Read more

In my PhD work, I investigated how surfaces that are the same colour can look different depending on where they are placed or what colour surrounds them.

To do this, I recorded people's responses (e.g. do they think that the grey is darker or lighter than the other grey?) and also their electrical brain activity (called 'EEG'). This is done by getting people to wear a special cap which has lots of tiny electrodes to record the signals being produced by the brain.

While the equipment is recording, we show different images on a computer screen. The timing of the images is stamped onto the EEG recording, so that we can later match up each part of the brain activity recording to what the person was seeing at the time.

The analysis can be quite a long process, as we filter the data and make sure there are no "artefacts" (e.g. if the person has blinked, this will cause a disturbance on the recording) before we get the "waves" that we can actually compare.

My Typical Day: I'm not usually an early-morning person, but I usually have a meeting or tutorial to start my day, then it's on to recording sounds for my next experiments!
My Interview

What was your favourite subject at school?

Maths and Science

What did you want to be after you left school?

I wanted to do something relating to Psychology, but wasn't sure of a specific job role.

Were you ever in trouble at school?

I did get told off for skipping dodgeball - I'd still rather be in the library than getting hit with dodgeballs!

Who is your favourite singer or band?

Vitamin String Quartet

What's your favourite food?

Cheesy bacon pasta bake

What is the most fun thing you've done?

Playing concerts with my orchestra

If you had 3 wishes for yourself what would they be? - be honest!

1) I would wish to be more confident/less anxious in certain situations. 2) I would like to be more involved in work that mixes my interests in psychology and music. 3) Can I wish for extra wishes to be used at a sensible and appropriate time?

Tell us a joke.

A receptionist says: "Doctor, there's a patient here who thinks he's invisible." The doctor replies: "Tell him I can't see him right now."
My profile link:
https://ias.im/u.251785
---
---
---
---