Profile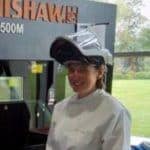 Sophie Louth
I design and research new 3D printed metal bones for those that need them
Curriculum Vitae
Education

I studied engineering at Oxford University after school (for undergraduate), and I am now studying at Birmingham University (for postgraduate)

Qualifications

I have an MEng which means a masters in engineering, I studied for 4 years to get it.

Work History

I used to work at a company making new hip replacements, I have also taught sailing and done odd jobs

Current Job

I have now gone back to university to learn more about research and I am an engineering doctoral student, I am finding out about how we can use 3D printing to make new bones.

Employer

I am studying at the University of Birmingham.
Favourite thing to do in my job: I love to do experiments!

About Me: I am a medical research engineer currently studying in Birmingham. I am investigating 3D printing new bones.

Read more

I am a medical research engineer currently studying at the University of Birmingham. I am investigating 3D printing new bones. I live in Leamington Spa with my partner (who is also an engineer). We play canoe polo (imagine basketball in kayaks) and can be found competing in Europe most weekends in the summer. I love writing letters to my family and reading books, and I have just started to grow tomatoes in my garden which I am very excited about.

My Work: I use a 3D printer to make new metal bones, and research ways to do it even better!

Read more

I am a medical research engineer, which means I find out new things that can help ill or disabled people get better or live more easily. My work looks at 3D printing of bones, this is for people who have badly broken a bone, or lost for bone for other reasons. I am trying to make better new bones than the ones the doctors currently use.

My Typical Day: I work in an office and a laboratory testing out new ideas.

Read more

I get up and ready for the day, then I cycle to the station to catch my train. On the train I eat my breakfast and read a book. Or I read about recent research that is similar to what I am investigating to see if it will help me. When I get to the office I catch up with my friends and then I start work. Every day is different; but I might be reading more recent research, or using the computer to model a test I want to do in real life to see if it can guess the outcome. If I have a test to do I would go to the laboratory to do the testing, I get dressed up in my lab coat and goggles (safety is important), and I write all my results in my lab book. After work I go to the gym to get strong for canoe polo and when I get home I will go kayaking to get fast. Then time to eat and sleep.

My Interview

How would you describe yourself in 3 words?

Sporty science lover

What or who inspired you to follow your career?

My grandfather was an engineer and I love finding out how things work so it seemed like a great choice

What was your favourite subject at school?

Maths

What did you want to be after you left school?

When I was young I wanted to be a fisherman or an artist, then I wanted to be a scientist, and finally an engineer!

Were you ever in trouble at school?

Not really, I liked school too much, although occasionally for talking too much or for questioning the teacher

If you weren't doing this job, what would you choose instead?

I think I would be a scientist or maths teacher. Or maybe an Olympian

Who is your favourite singer or band?

Queen

What's your favourite food?

Fish pie with slices of egg in, and banoffee pie

What is the most fun thing you've done?

I love playing canoe polo and beating a tough opposition is very satisfying

If you had 3 wishes for yourself what would they be? - be honest!

To be really strong, to not need sleep, and to be able to teleport

Tell us a joke.

Why didn't the skeleton go to the party? He had no body to go with!

My profile link:
https://ias.im/u.183034
---
---
---
---