Profile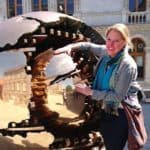 Paula Koelemeijer
Busy researching how the slowdown of our lives at the moment is reflected in seismic data! Ask me about this and more!
Curriculum Vitae
Education

Highschool: St Bonifatiuscollege in Utrecht (The Netherlands), Bachelor in Earth Sciences, University Utrecht (The Netherlands), Master in Geophysics, University Utrecht (The Netherlands), PhD in Seismology, University of Cambridge (UK)

Qualifications

As my education was not in the UK, I did not do these type of qualifications. In high school, we had to choose 7 subjects and pass exams in these when we were 18. I enjoyed both science subjects and languages, so had a very mixed set of subjects, including maths, physics, chemistry, english, german and geography!

Work History

During high school, I spent a lot of time baby sitting, which meant I could do home work while earning money. I also helped younger pupils with certain subjects.

After school, I took a year off and had a bunch of jobs, including being a post delivery woman and au pair. Throughout my university degree, I then worked in a supermarket, filling up shelves and manning the checkouts.

Since my university degrees, I have worked full-time as a researcher, first as a PhD student, then as a postdoc in Zurich, Oxford and UCL and now as a researcher at Royal Holloway.

Current Job

Royal Society University Research Fellow (fancy name for being a researcher at the university)

Employer

Royal Holloway, University of London
Favourite thing to do in my job: Learn about new things in and on the Earth and work with great people!

About Me: I am a geophysicist at Royal Holloway (west London) and love the fact that my work allows me to combine my love of physics, rocks, the outdoors and 3D printing!

Read more

I work as a researcher at Royal Holloway in West London and live nearby with my partner. Our house is full of interesting objects, as we have a 3D printer at home that we use to print all kinds of things. In addition, we have a seismometer running running as well, with which we can pick up the vibrations from cars, trains and even washing machines in the street!

I have moved around quite a lot, so I now enjoy being in one place and having a garden! Being originally Dutch, I enjoy swimming and cycling. I also love the outdoors and hiking. Living in Switzerland was great for this, though I never got used to cycling the hills 🙂

My Work: I use observations of waves to understand the world around us, whether that is seismic recordings of earthquakes to understand the deep Earth, or signals due to different elephant behaviours and humans during the recent lockdowns!

Read more

Just like light and sound waves, seismic waves (vibrations through the ground) are all around us, generated by different sources. Mostly we think of earthquakes, but other natural phenomena also give rise to seismic waves, such as landslides, volcanic eruptions and storms on the coast! Humans also generate seismic waves, not only when nuclear explosions are set off, but also by a large crowd dancing together or our normal activities (use of cars, trains, planes). Even more cool, different animals produce seismic signals, for example elephants, giraffes, seals. As a seismologist, I love the fact that I can use the same physics to study all these different types of seismic waves.

Mostly, I use waves generated by large earthquakes to study the interior of the Earth. By combining surface recordings of large earthquakes, we effectively make CT-scans of the Earth. Similarly as in medical imaging, when a scan allows you to diagnose what is going on in a human body, we use these images to find out more about the processes that happen within the Earth. They help us to understand how the Earth has evolved and has been cooling down through time – something that affects everything from our protective magnetic field to plate tectonics. Particularly, I use the standing waves of the Earth, that we only get after very large earthquakes. Similarly to the sounds of musical instruments, these resonance frequencies depend on the properties of the Earth and we can therefore use our measurements to constrain structures deep inside our planet.

As I often miss my time as a geologist in the field, I also try to be involved in field projects. Particularly I was in Kenya in 2019, where we have been looking at the seismic signals of elephants! Because I really enjoy seismology, I also installed a little seismometer in our house, which I can use to see all kinds of signals from residential London – the train time table, morning rush hour and laundry machines. Recently, these instruments have also been used to show that people are staying at home, as there is less human activity and therefore less noise in our instruments!

My Typical Day: With most seismic data online, I spent my day behind the computer, primarily coding and modelling. Earth sciences is also a very international subject, which means I work with people all over the world and have online meetings with them during the day.

Read more

Normally, I work relatively flexible hours to avoid rush hour (I commute by train to the university). From the station, it is a 20 min walk, so I get plenty of fresh air and can switch off a bit when I walk back in the evening.

Generally, the whole day is spent behind the computer, writing emails, writing code and papers, analysing data. Meetings then break up the day a bit, especially when they give you lots of new ideas for research! Now, with the lockdowns, all meetings are electronic, but luckily I have already been used to that, working with people from across the globe. Sometimes, I do more theoretical work, which means taking out pen and paper and writing down equations.

I also enjoy outreach and science communication,
and spent a lot of time developing different materials, particularly using 3D printing. It is also nice, as it means I am doing something physical from time to time, so it breaks up the day!
My Interview

How would you describe yourself in 3 words?

Passionate, caring, organised

What or who inspired you to follow your career?

Just being interested in my school / university subjects

What was your favourite subject at school?

Maths

What did you want to be after you left school?

Volcanologist

Were you ever in trouble at school?

Told off for climbing on buildings

If you weren't doing this job, what would you choose instead?

Primary school teacher

Who is your favourite singer or band?

Caro Emerald

What's your favourite food?

Italian pasta

What is the most fun thing you've done?

Listening to the sounds of elephants with seismometers in Kenya

If you had 3 wishes for yourself what would they be? - be honest!

Live closer to my family, stay healthy, and travel to see amazing places!
My profile link:
https://ias.im/u.251964
---
---
---
---