Profile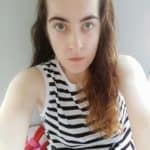 Kiri Thornalley
Curriculum Vitae
Education

Caistor Grammar School 2005-2012
BSc Chemistry, University of Sheffield 2012-2016
MRes Chemistry, University of York 2016-2017
PhD in Pharmacy and Biomedical Sciences, University of Strathclyde, Glasgow 2019-

Qualifications

GCSEs:
4A*s, 6As and a C. A*s in Biology, Chemistry, Physics and Music
A Levels:
BBBCd: Biology, Chemistry, German, General Studies and a D in AS Maths.
BSc Chemistry, University of Sheffield: Lower second class honours (2:2)
MRes Chemistry, University of York – Pass with minor corrections.

Work History

Spent every summer during my BSc degree working as a factory operative in a fish factory.
The summer before my MRes I worked in a lab doing analytical testing of foodstuffs to work out how much fat/salt/sugar/protein they contained.
I've since worked as a customer contact assistant, taking phonecalls for the local council.

Current Job

PhD Researcher, Strathclyde Institute of Pharmacy and Biomedical Sciences, University of Strathclyde, Glasgow.
Graduate Teaching Assistant, University of Strathclyde.
Favourite thing to do in my job: Being in the lab! This is definitely something I'm really missing at the moment.

About Me: I'm a 1st year PhD student at the University of Strathclyde and I'm studying various processes that will help us develop better medicines.

My Work: I study what happens when we put really small things (nanoparticles) into blood. We know lots of things stick to them, but can we control which ones if we change how big they are or what is on the outside?

Read more

Using a wide variety of analytical methods, I'm looking at a very specific process that occurs as soon as nanoparticles enter the bloodstream – but this happens if these nanoparticles come into contact with any biological fluid. The nanoparticle rapidly develops an outer coating called a protein corona. We already know that this contains lots of proteins, and that the size and shape (as well as many other factors) determines the exact make-up of the corona that forms. I want to study this in more detail, because there are lots of factors that affect it, which we don't understand very well and this impacts on our ability to develop new nanomedicines to treat disease.
To understand what these new nanomedicines do in the body, we often put them into mice, these are really bad models of what happens in humans for many different reasons.  So I also want to create artificial models of the bloodstream, so we can see how bloodflow changes the behaviour of these nanomedicines, without putting them into mice/rabbits and other animals.

My Typical Day: I'll usually start the day in the lab by preparing my next set of samples that I want to run. Some of these I might be able to make and then look at straight away, whilst others need to wait almost 24 hours before I can see what is happening. Depending on how busy I am, there's almost always time for coffee with my labmates.
My Interview

What was your favourite subject at school?

Chemistry

What did you want to be after you left school?

I actually wanted to study Forensic Chemistry at University, but was very much told not to. I studied Chemistry instead.

Were you ever in trouble at school?

Very, very rarely. Most likely to happen for me forgetting my homework!

If you weren't doing this job, what would you choose instead?

I think I'd still be working in a lab, probably doing analytical testing of foodstuffs.

Who is your favourite singer or band?

Dodie

What's your favourite food?

sushi

What is the most fun thing you've done?

Visiting Berlin at 17 during A Level German. I miss it so much and really want to go back.
My profile link:
https://ias.im/u.254759
---
---
---
---