Profile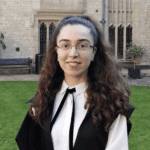 Gulnar Abdullayeva
Curriculum Vitae
Education

2019 – now: DPhil in Oncology, University of Oxford; 2018 – 2016: MSc (Hons) in Molecular Biology, Institute of Molecular Biology and Biotechnologies of Azerbaijan National Academy of Sciences; 2016 – 2012: BSc (Hons) in Biochemistry, Baku State University; 2012 – 2001: High school, The Republican Gymnasium of Humanitarian Subjects named after S. J. Pishavari.

Qualifications

Currently, I am studying for a DPhil in Oncology at the University of Oxford. My school, Bachelor, and Master years were in Azerbaijan. I had an honorary MSc degree in Molecular Biology and my grade point average (GPA) was 100 (A level) out of 100 (with English language, physics, biology, bioinformatics, pedagogy, psychology, philosophy, research, and pedagogical internships, and thesis defence). I did my BSc in Biology (specialization: Biochemistry) with honours. My bachelor GPA was 95 (A level) out of 100 (with Russian and English languages, mathematics, chemistry, physics, biology, ecology, biometry, history, psychology, philosophy, computer applications, culturology, productive practices, and thesis defence). I successfully passed the high school exam with the top grades.

Work History

2018 – now: Junior Researcher at the Institute of Molecular Biology and Biotechnologies of Azerbaijan National Academy of Sciences; 2018 – 2016: Senior laboratory assistant at the Institute of Molecular Biology and Biotechnologies of Azerbaijan National Academy of Sciences.

In addition, I worked as a lecturer and taught undergraduate and master students 'basic principles of molecular biology', 'regulation of gene expression' at IMBB and BSU, Azerbaijan. It was a great experience for me.

Current Job

DPhil student at the Prof. Walter Bodmer's lab, the MRC Weatherall Institute of Molecular Medicine at the University of Oxford

Employer

Institute of Molecular Biology and Biotechnologies of Azerbaijan National Academy of Sciences
Favourite thing to do in my job: Doing experiments 🧬🧪 and reading papers 📑📚

About Me: I am a PhD student in Oncology at the University of Oxford. I love learning new things every day. In addition, playing volleyball and bowling, reading novels, and learning new languages are among my favourite hobbies.

Read more

I was born in Baku, the capital of Azerbaijan 🇦🇿. I successfully completed my bachelor's and master's degrees in Azerbaijan. Since October 2019, I have been living in Oxford, one of my favourite cities, to do my DPhil.

I enjoy doing laboratory experiments 🧬🧪and analysing the results 📈📊📉. I often spend more time looking at cells under the microscope 🔬, which is very interesting. Outside of work, I love exploring Oxford, playing volleyball ⚽️ and bowling 🎳, reading books📚, walking 👭👫, spending time with my family 👩‍👩‍👧‍👦👩‍👩‍👧‍👧 and friends 🙍‍♀️🙍‍♂️🙎🏻‍♀️.

Awards 🥇🏆🏅:

First place in the "Winter School of Young Biologists – 2019", Azerbaijan, 27.02. – 01.03.2019.
"Honorary degree" – Azerbaijan National Academy of Sciences, 10.11.2017.
"The best student of the year" – Baku State University, the Ministry of Education of Azerbaijan Republic, 2015/2014/2013.

Here, I was awarded an 'Honorary Degree' by academician Akif Alizadeh, President of Azerbaijan National Academy of Sciences, in 2017.

Learning about different cultures, amazing places around the world 🌏 is always great fun for me. More recently, my friends and I started a new project, called 'We and Countries', with the aim of helping people for getting more information about the countries through the eye of youth. During our journey, we share the fantastic places, interesting cultures around the world. You can find our page on We & Countries.

My Work: I study the mechanisms of cell differentiation in bowel cancer and try to find a treatment of it. The main question of my work is what makes cancer cells turn to 'bad' cells? How can we stop this conversion?

Read more

I am investigating the mechanisms of cell differentiation in colorectal cancer at Prof. Walter Bodmer's lab. Like most cancers, colorectal cancer displays the deregulation of cell differentiation. The main aims of my project are to identify new potential factors that trigger cell differentiation and explore which primary defects – mutations or methylation – affect cell differentiation in colorectal cancer. Specifically, I am interested in Goblet cell differentiation.

Goblet cells are one of the differentiated cell types within the intestinal epithelium and their main function is the synthesis and secretion of the MUC2 mucin. MUC2 is the most abundant mucin in the intestine and acts as a major structural component of the protective mucus layer. Colorectal cancers can be categorised as mucinous with abundant MUC2 secretion and non-mucinous with reduced MUC2 secretion.

Therefore, a detailed understanding of the mechanisms involved in Goblet cell differentiation in normal colon and CRC is essential. Improved understanding of cell differentiation will contribute to the treatment of mucinous and non-mucinous carcinoma. My main purpose is to make a positive contribution to cancer treatment.

Here you can see the morphology of Goblet cells under the microscope in the colorectal cancer cell line. MUC2 and TFF3 are the main Goblet cell markers in normal colon. In order to identify the shape and size of Goblet cells, we used EpCAM, a cell surface protein. As it is shown, they are bigger than other cells, and they have a Goblet or cup-like appearance. In addition, not all cells in culture are able to make Goblet cells.

My Typical Day: I usually spend my time doing experiments in the lab and try to understand the key pathways involved in cancer.

Read more

I usually wake up at 7 in the morning ⏰ and do sports🏃‍♀️🤸‍♂️. After breakfast 🧀🍩☕️🥯, I get ready and go to the laboratory by walking🚶‍♀️. In the lab, firstly, I look at my daily schedule 🗓 and try to follow it as much as possible. In addition, I check emails 💻📩 and daily news 📰.

Experiments usually take a long time, and if there is work to be done under the microscope 🔬, it takes even longer. The experiments are mainly carried out in cell culture to study the effect of various factors on the activity of cancer cells. After the experiments, I read research articles. If there is no daily experiment, then I re-analyse the results of previous research📝📈📊and try to read more recent papers 📑.

It's lunchtime at 1 p.m 🍜🍝. During lunch we always have interesting discussions with members of the laboratory and other friends. Then, again experiments and work activities continue.

I usually finish my work at 6 o'clock in the evening⌚️. Then I go home and make dinner 🥗🥘. After dinner, I talk to my family 📞📱and make plans for the next day ✍️📅. If I'm going to do a new experiment tomorrow, I'm researching different protocols on the Internet 💻. I have a rest after 10 o'clock🧘‍♀️. If I don't have important work, I listen to audio books 🎧 and music 🎼.

I go to volleyball classes on weekends ⛹️‍♀️. I love walking outdoors 👭 and exploring Oxford with my friends 👬👭👫.

Here are some pictures of our laboratory Christmas decorations🎄🎊🎉🎄🎊 at the MRC Weatherall Institute of Molecular Medicine in 2019.

A cancer immunotherapy tree which was also accompanied by a tree decorated as a Goblet cell;

Goblet cells: secretary cells were cleverly represented by baubles, while pipettes were used to show the secreted mucin network.

A cancer immunotherapy tree🎄🎄: The tree represents a cancer cell and white baubles indicate T cells. The antibody binds to T cells with its one arm and cancer cells with a second arm. Then, T cells are activated and kill cancer cells.

     
My Interview

How would you describe yourself in 3 words?

Curious, purposeful, friendly

What or who inspired you to follow your career?

My family, teachers, and mostly my enthusiasm to the science

What was your favourite subject at school?

Biology. But I also loved Physics and Maths.

What did you want to be after you left school?

Scientist, pilot, mountaineer

Were you ever in trouble at school?

No, I was a perfectly well-behaved student!

If you weren't doing this job, what would you choose instead?

I would probably have tried to be a professional pilot.

Who is your favourite singer or band?

Muslim Magomayev, Emin Agalarov, Maher Zain, and Shakira

What's your favourite food?

"Shakh Plov" (Crown Pilaf) – the King of Azerbaijani pilafs; fish and chips

What is the most fun thing you've done?

Punting was good fun!

If you had 3 wishes for yourself what would they be? - be honest!

1) Make a positive contribution to community, 2) Win a Nobel prize, 3) Travel the world.

Tell us a joke.

Why are biology teachers also great philosophers? They give great life lessons!
My profile link:
https://ias.im/u.257206
---
---
---
---