Profile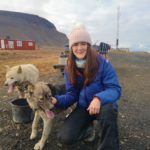 Emma Burns
My CV
Education:

I went to school at my local high school (Formby High) and then stayed on here for sixth form also.

Qualifications:

I gained 11 GCSE's when I was 16. I did all of the normal core subjects and chose to do chemistry, biology, physics, geography and dance.
I then went on to study chemistry, physics, geography and dance in my first year of sixth form and dropped physics for my final year.
I studied for a Bsc. in geochemistry at the University of Manchester for 3 years, graduating in July 2017. I then went straight into a PhD, which I am in my last year of.

Work History:

I volunteered at a local charity shop for over 5 years while I was in high school. I then went on to work at my local supermarket, I did this throughout my sixth form and undergraduate studies.

Current Job:

PhD researcher full time
Teaching assistant part time
About Me:

Hi! My name is Emma and I live in Manchester. I am a final year PhD student and I love to dance.

Read more

I have lived in Manchester for 7 years now, before this I lived with my parents, little sister and their two kittens (Jasper and Yogi).  I am a member of the Universities dance society and we meet every week to practice for competitions. At the weekend, me and my boyfriend like to watch my local ice hockey team compete in their league and enjoy the pizza and nachos they serve there. My pronouns are she/her.

Read more

My work is focussed on how climate change effects the Arctic foodweb. There are areas of land around the Arctic Ocean that are completely frozen all year round (permafrost) but due to climate change these places are warming up and causing the land to melt. When the land melts it releases food into rivers, these rivers then transport the food to the Arctic Ocean where it can be eaten by tiny animals. I use special laboratory techniques and machines to try and see if the tiny animals do eat this food from the land or if they prefer to eat the sea food instead.

In order to complete this work I had to travel to the Arctic to collect samples. One of these trips was on board the Royal Research Ship James Clark Ross, this is a 100m long ice breaker. We spent over a month on board and collected lots of samples (using the megacorer in the photo below) from all over the Arctic. While on board we saw Polar bears, whales and dolphins.

My Typical Day:

I wake up and have my morning coffee on the way to work. I spend most of my days in the lab looking at my Arctic samples. Some days I also help teach the younger students.

Read more

I wake up and have breakfast and a coffee at about 6am. I then travel to university and check my emails in my office that I share with 4 other PhD researchers. I then spend the rest of the day in the lab studying my Arctic samples, it takes a full week for me to study 8 samples. At the end of the week I use a special piece of science equipment to investigate my samples. I then usually go to a dance class or the gym before heading home and enjoying dinner.
My Interview

How would you describe yourself in 3 words?

Organised, outgoing and determined

What did you want to be after you left school?

Went to university

Were you ever in trouble at school?

Once for forgetting my art shirt!

Who is your favourite singer or band?

I like lots of different music, just depends on what mood I am in.

What's your favourite food?

Anything Italian!

If you had 3 wishes for yourself what would they be? - be honest!

1. Work for an organisation that allows for travel, even better if that is to see Polar bears in the Arctic. 2. Convince my partner to buy a puppy! 3. Be happy with myself and the work I do

Tell us a joke.

What do you call a penguin in the Arctic?....LOST!
---
---
---
---